La Jacinthe – Schooner 1825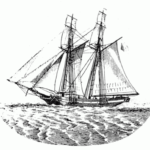 Description: Small, fast two masts, two guns vessel used by French Navy as dispatch-boat (aviso) her principal role was to deliver dispatches and to cary out reconnaissance and scouting duties. The rigging consists of two boom sails, three jibs on its bowsprit, cross-jack sails and flying topsails.
The build will be done using the plans from J. Boudriot's monograph. I plan to fully rig the model and once done her size will be quite considerable 80cm x 25cm x 60cm (L x W x H).
Started: December 2017
Scale: 1/48
Construction type: planks on solid hull
Project log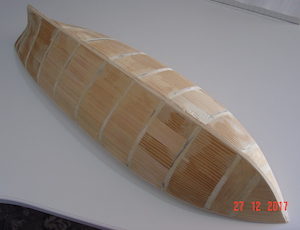 December 27, 2017
The solid hull is completed. Frames and keel were cut from 6mm plywood and the spaces between frames were filled with cedar wood. The deck was planked with 1.5mm by 25mm basswood strips. Once sanded the remaining gaps and irregularities were filled with wood filler. It does not look so good now, but all this will be covered with the final planking.
---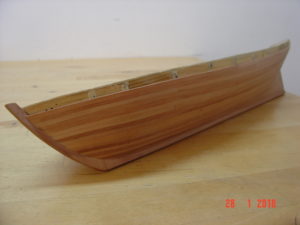 January 28, 2018
The hull planking, up to the whales is now completed. There are 18 strakes of pear wood 4mm by 2mm. They narrowed toward the bow and stern and there is one plank drop at the bow. The whale will be done in two strakes of ebony but only after the lower hull will be nailed to the frames.
---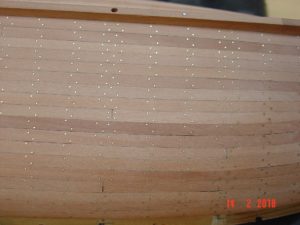 February 16, 2018
It took me about 20 hours over three weekends to "nail"  the planking – to drill 0.5mm holes with my Dremel, glue in each a piece of brass wire with CA glue then file/sand the ends. There are a bit over 3000 of them (3038 to be precise) and I used about 11m (33ft) of brass wire.
I think by now I have enough material for a new build log so here it is.
---